Class Trip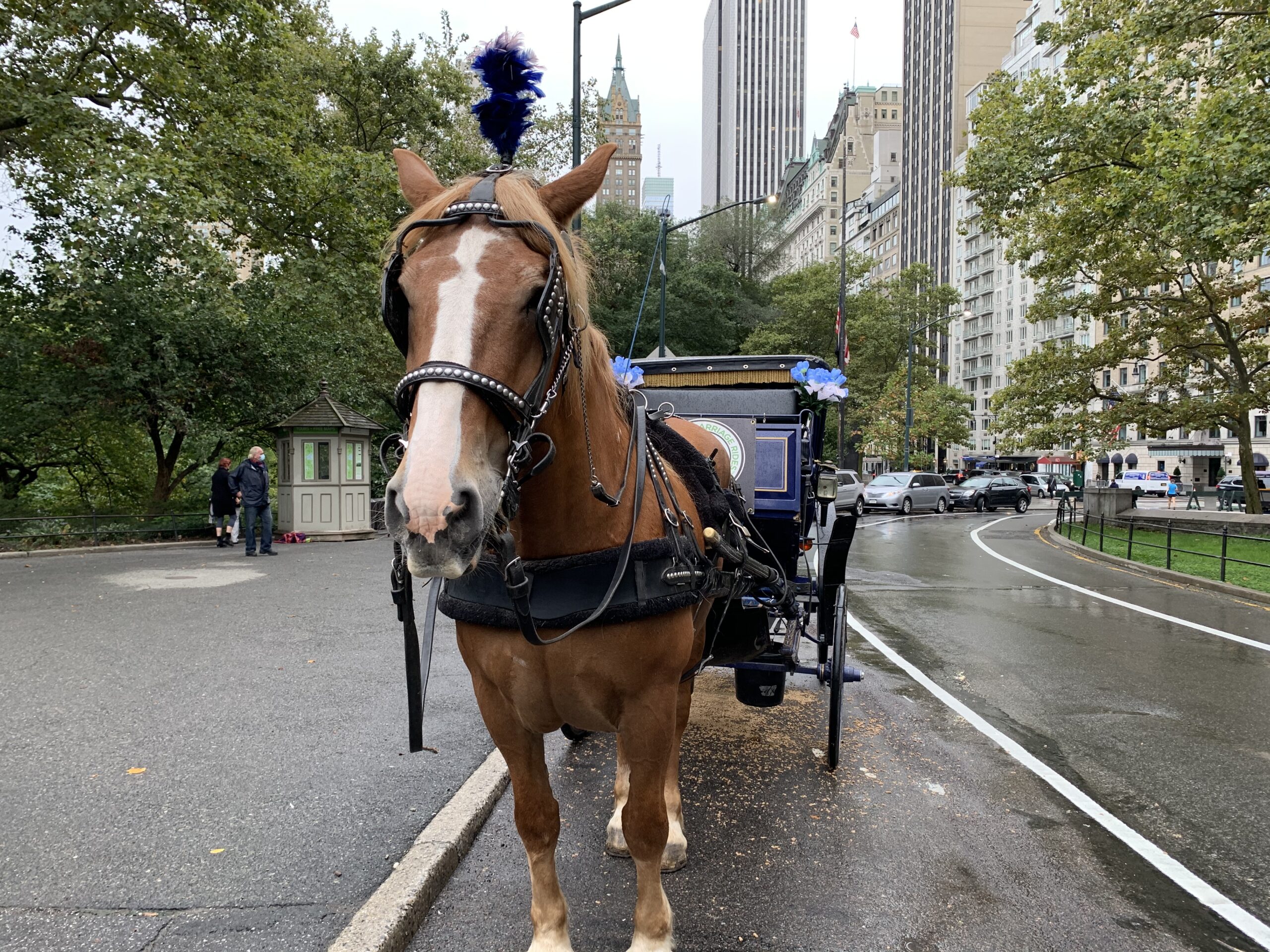 A typical outing starts with the group being introduced to carriage horses that are lined up on one of three hack lines bordering Central Park South. Our instructor will provide a "Horses 101" lesson that touches on a variety of topics, ranging from the evolution of the horse to the different breeds in the park today.
These sessions dip into multiple subjects, including history, biology, social studies, and animal welfare. Kids learn about the horse's physical abilities and characteristics, how they helped build NYC and Central Park itself, and what they require to live healthy and content lives. Kids ask questions, pet the horses, and feed them carrots.
We then provide a 20-minute carriage ride including views of: The Literary Walk, which is lined with statues of literary giants like Shakespeare; the Sheep Meadow, where a flock of sheep resided from 1864 until 1934; The Dairy, where families visiting with children in the late 1880s could get fresh milk (now it's the Visitors Center); The Pond and The Hallet Nature Sanctuary, which are inhabited by 240 species of migratory birds; and Grand Army Plaza, which honors the Union Army that fought the Civil War and features a statue of General William Tecumseh Sherman on horseback, created by the American Renaissance sculptor Augustus Saint-Gaudens and dedicated in 1903.
Students are also invited to tour the largest stable on the West Side of Manhattan, where they can see the horses in their stalls, observe them being groomed and fed, and learn more about the animals and the city's animal-care regulations.
We can tailor the informative session to focus more on individual subjects, like anatomy, biology, history, urban planning, and city government's role in animal welfare.
Cost: AWESOME provides services to schools and youth groups in NYC at no cost. Schools and youth groups are encouraged to make donation, but they are not required.
---
"It was excellent experience. The children enjoyed it thoroughly. This was a real treat for them and an experience they will never forget."
Denise Watkins, Supervising Childcare Coordinator, SCO Flushing Family Residence, Bushwick, Brooklyn.
---
"I believe this was an amazing experience for all the students, some who had never been to Central Park before. They enjoyed meeting the horses and better understanding their role in NYC's history. Visiting the stable and learning more about horse husbandry was the highlight for us."
­­­Tiffany Santiago, Veterinary Science Career and Technical Education (CTE) teacher, George Washington Carver High School for the Sciences, Queens
---
Interested in taking a trip? Send us an email at: awesomehorsesnyc.org